Let's explore the Arenal Volcano hotspot, a signature Costa Rican Experience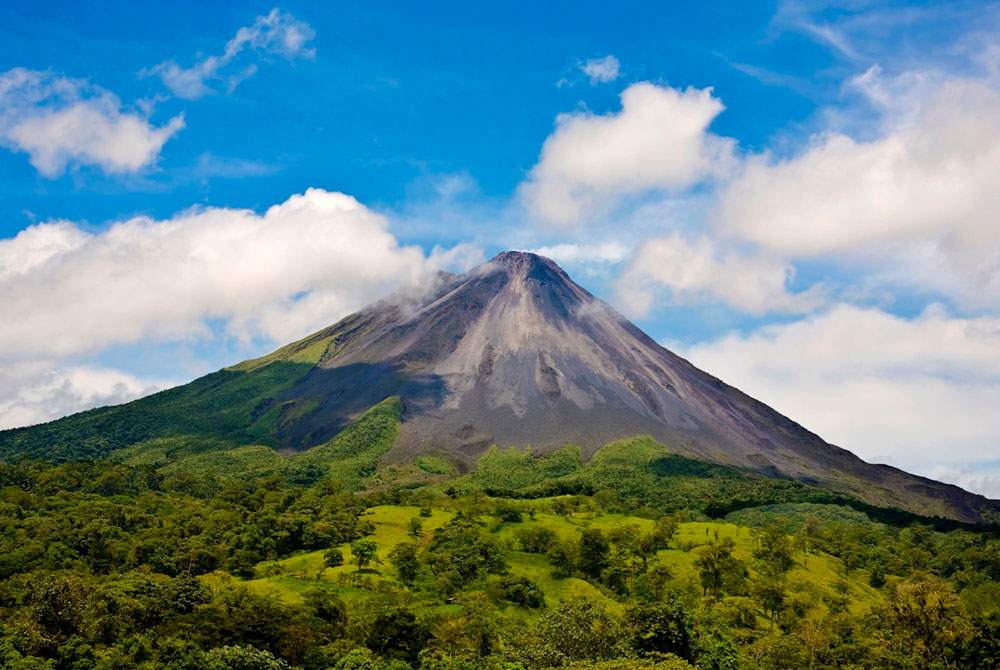 What could be Costa Rica´s most iconic natural landmark, the Arenal Volcano, is located on the northern lowlands that extend to the Caribbean Sea. This area of vast plains, winding rivers, and quaint rural towns are host to various stunning natural landscapes and adventure activities in nature. Let´s explore the Arenal Volcano hotspot and its surrounds! It is a signature Costa Rican experience! So buckle up, and let´s get on the road!
Driving to the Arenal Volcano and La Fortuna is picturesque and easily accessible. Your Poas Rent a car will get you there safely and surely. All roads to Arenal are in good condition, so choose any of the range of modern vehicles from the fleet. If you would like to take the back roads or explore the less traveled roads, rent a Standard or Full-Size SUV to experience the northern lowlands from a different perspective.
How do I get to the Arenal Volcano – La Fortuna
If you are coming from Guanacaste, take the Cañas – Tilaran – Lake Arenal route, which will take you through a beautiful farming country and then around the lake.
If you are coming from San Jose, take Route 32 through the Braulio Carrillo National Park, and then the North-Atlantic Corridor, Route 4, will take you through lush forests and pineapple plantations. Route 4 will connect you with the Caribbean too.
An alternative route from the Central Valley is via San Ramon. Take Route 1, the Pan American Highway north, and then through the small city of San Ramon and the town of Chachagua. This is also a very scenic route.
If you want to explore beyond the Arenal Volcano, consider Rio Celeste, another Costa Rican natural icon. It is north of Arenal and is an easy drive along a well-maintained road. It is an hour and a half drive along the North Atlantic Corridor.
Wellness tourism in nature: Thermal Springs
The Arenal region is a favorite for wellness tourism thanks to the volcanic gift of thermal springs. Deep below the earth, water is heated by the volcano, and on the surface can enjoy bathers. These thermal springs can be found in resorts, hotels, and spas dotted around the base of the Arenal Volcano. One is a short drive away if your hotel doesn't have its thermal springs.
The thermal springs are not only relaxing, but they are also medicinal. They are rich in sulfate, calcium, bicarbonate, magnesium, sodium, and other minerals, ready to soothe your mind and body. After a day of adventure in nature, this is the ultimate open-air wellness experience.
Our sleeping giant, the Arenal Volcano
As you drive towards the Arenal Volcano area, keep your eyes on the road, and the distance as this incredible cone-shaped spectacle begins to appear on the horizon. It is hard to miss and will be a constant companion that transforms the closer you get to it.
The Arenal Volcano sits within a national park of the same name and is a stratovolcano reaching 5350 feet above sea level. Although it is presently in a resting or sleeping phase, it is an active volcano, and while there are no minor eruptions, it continues to be a sight to see and will captivate you.
New experiences on the Lake Arenal
The Arenal Volcano has always been the main attraction in the area, and its fame is well deserved. Nevertheless, Arenal Lake is gaining traction with visitors, and there are a variety of aquatic activities you can enjoy. Lake Arenal also has stunning views of its volcanic neighbor, so while exploring the lake, you get birds-eye views of the sleeping giant in the near distance.
The drive to Arenal Lake is also pretty and not far from La Fortuna. It will take you along the hotel strip that borders the Arenal Volcano, and then you will begin to wind around its base to the other side through lush rainforest and over small streams, some warmed by the volcano. This drive takes about 15 minutes, and you will have views of the volcano all the way.
What can you do on Arenal Lake? Kayak, Pedal boarding, take a boat ride, fish, or hop on a SUP. This is a fun way to explore the surrounding area and view the Volcano from the other side!
The thriving town of La Fortuna
La Fortuna is a small, bustling town at the base of Arenal Volcano. It caters to the large number of tourists that visit the region throughout the year and is lively and busy. Choose from various restaurants, bars, souvenir shops, cafes, and tour operators offering their once-in-a-lifetime adventure and nature experiences.
While La Fortuna is big on tourism, it is also a traditional, rural town with the central park facing the church and the local school not far away. This is how many Costa Rican towns are anchored so you will get a sense of the local traditions and way of life. It is also home to many Costa Ricans who love their town.
La Fortuna is walkable, so park your car by the park or in one of its side streets and wander around the shops, have some lunch or dinner, or some delicious coffee to get a feel of the place. It is laid-back, friendly and with views of the volcano too!
Levels of Adventure for everyone
The Arenal Volcano region is world-renowned for its epic adventure activities and close-to-nature experiences.  Choose from a myriad of possibilities that range in adrenaline-rush levels. However, what is true is that all the activities are immersed in nature, and you decide on the thrill level.
Arenal offers you white water rafting, canyoneering, rappelling, or mountain biking for genuine thrill seekers. For the less adventurous-spirited, why not do horseback riding, kayaking, birdwatching, or hiking? Vacations are about trying new experiences and creating unforgettable memories, and Arenal will do just that.
For the even less adventurous, Arenal also has cultural activities that include visits to working farms to learn about cacao, sugarcane and coffee growing or to the Maleku indigenous community to witness their ancestral traditions and cosmovision. Then again, you can just lay back and relax in the thermal springs or by the hotel pool too.
Poas Rentacar has offices at San Jose International Airport and Guanacaste International Airport. They are just a few hours away from the Arenal Volcano – La Fortuna area, so hop in your car soon after you jump off the plane, and this beautiful region awaits your visit.