5 Best Birdwatching Destinations in Costa Rica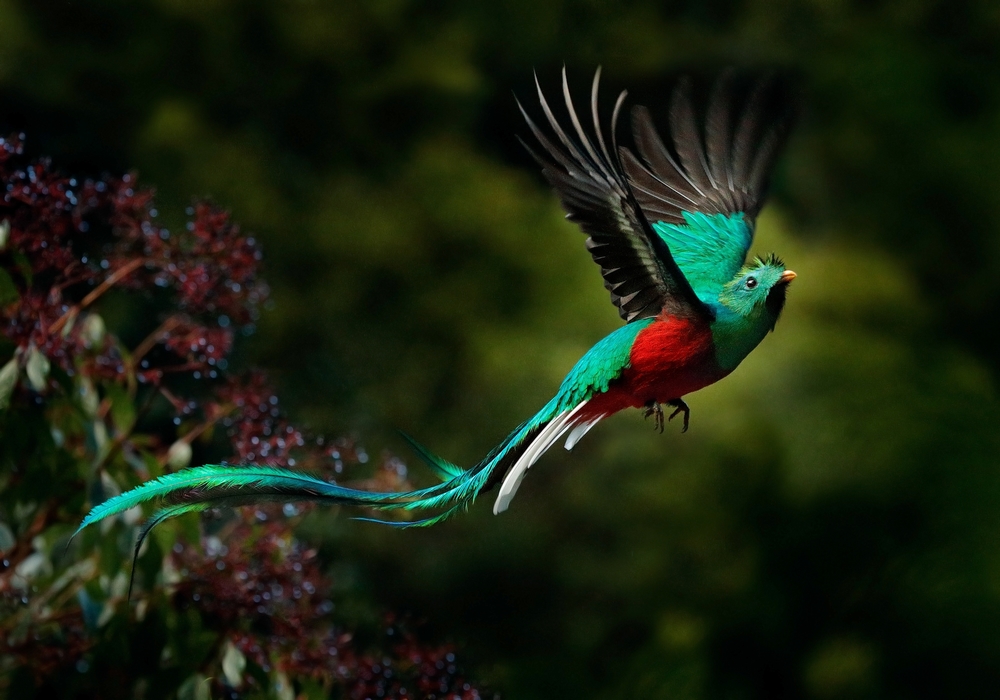 Costa Rica is well known for many reasons. It has become a favorite tourist destination for many people too!  Eager travelers from around the world come to visit its tropical beaches, live volcanoes, vibrant rainforests, misty cloud forests, and cultural hubs. While nature and relaxation are the main reasons, Costa Rica is also a very popular place for birdwatchers. So where should you go with so many bird species to spot and admire? Let´s drive to the 5 Best Birdwatching Destinations in Costa Rica with Poas Rent a Car.
Due to its position in the middle of the Americas, Costa Rica is a like a bridge that connects them. Thanks to its tropical climate and numerous mountain ranges, Costa Rica becomes the perfect destination for our furry friends to live, migrate to or stop by on their way north or south during the Spring. In addition, Costa Rica´s trees and skies are filled with birds, where they find food, shelter, and resting places as they fly up and down the Americas.
Costa Rica is the residence of more than 900 birds that fill its forests, savannas, and coastlines.
1.  
Monteverde
Monteverde sits on the Continental Divide towards the center of Costa Rica, and it is a favorite for resident and migratory birds, including the elusive Resplendent Quetzal that attracts flocks of bird lovers to search for them in the cloud and rainforest canopies. The male quetzal is exceptionally high on the avid birdwatcher's checklist. With his 30-inch tail and brilliant emerald plumage, he is a favorite!
Monteverde is home to the cloud forest and is estimated to be home to 400 bird species. This unique place is not only a birdwatcher's paradise but it is also filled with protected areas, including the Monteverde Cloud Forest Reserve and the Children's Eternal Rainforest.
It is also reachable by car and is an easy drive from both the Juan Santamaria International Airport and the Guanacaste International Airport. Poas Rentacar has both offices, making Monteverde your first or last stop easy!
Tip: Look for avocado trees, as the Quetzals love them!
2.
Carrara National Park
Carrara National Park is on Costa Rica´s Central Pacific coast and just south of the famous "Crocodile Bridge." This region of Costa Rica is where the drier forests transition to the rainforest, which means flora and fauna are abundant from the varied ecosystems that converge in this popular part of the country that is home to the well-known beachside tourist towns of Jaco and Manuel Antonio.
Carrara National Park is an easy-to-walk destination with bird and wildlife spotting opportunities. One of these is the loud and colorful Scarlet Macaw. It is the largest of the parrot family, and Carrara is where the most significant remaining wild populations live.
Carrara National Park is just an hour from San Jose, Costa Rica's capital city. Take the modern, tolled Route 27 to Orotina and then onto Route 34, the Pacific Ocean coastal road. Carrara National Park is on this main road. It is also Costa Rica´s first national park with universal accessibility.
3.
La Selva Biological Research Station
We will cross the Braulio National Park onto the Caribbean lowlands to visit La Selva Biological Park, located at Sarapiquí, one of Costa Rica´s most bio-rich epicenters. It boasts over 2000 species of plants, 125 species of mammals, and more than 450 bird species, of which about half are local.  This is nature´s back garden!
La Selva Research Station protects 1600 hectares of wet, lowland tropical forest and is operated by the Organization for Tropical Studies. It is one of the most important sites in the world for research on tropical rainforests and attracts numerous curious and avid nature lovers, including birdwatchers. During your visit, you may check off the following birds from your list of "must-sees": The bare-necked Umbrella Bird, the Red-capped Manakin, the Great Antshrike, and the Rufous-tailed Jacamar.
La Selva Biological Station, and best birdwatching destination, is about a 2-hour scenic drive from San Jose. You will take Route 32 and Route 4, the North Atlantic Drive. La Selva Biological Station is on that road.
4.
Palo Verde National Park
Leave your Poas Rent a car on the river's banks and hop on a boat to explore this best birdwatching destination. The Tempisque River feeds the Palo Verde National Park wetlands. Extending over nearly 20,000 hectares, it is home to almost 950 species of plants, 78 species of amphibians and reptiles, and 314 resident and migratory birds.
This wetland has been cataloged as a Ramsar Site on the List of Wetlands of International importance. Palo Verde National Park is also home to Bird Island (Isla de Pajaros), which has the largest concentration of bird nesting in Central America! It is also home to the endangered Jaribu Stork, a large, solitary bird that builds large nest platforms that they use over successive seasons.
The Palo Verde National Park is on the Nicoya Peninsula in the province of Guanacaste. It is about an hour from Tamarindo and just over an hour from Guanacaste International Airport. Drive through rural towns and farmlands to reach the Palo Verde National Park, and best birdwatching destination in Costa Rica!
5.
Caño Negro National Wildlife Refuge
Caño Negro National Wildlife Refuge involves a drive over Costa Rica´s northern lowlands. This vast agriculture-rich countryside extends to the Caribbean Sea and is where the Arenal Volcano is located too. Your travels along the Northern Atlantic Highway will definitely be filled with contrasts, crops, and cattle ranches.
This best birdwatching destination in Costa Rica is also a Ramsar Site. Filled with fauna, Caño Negro is reported to have 307 species of birds, including endemic and rare ones. About 200 are residents, and the other 100 are migratory birds. With birds, there are fish, and Caño Negro´s wetlands are full of fish, a food source for the birds and wildlife and the avid anglers too!
Some favorite birds you can spot at Caño Negro are the Yellow-tailed Oriole, Black-collared Hawk, Lesser-Yellow Headed Vulture, Yellow-Breasted Crake, Sungreebe, and the elusive Agami Heron. Explore the wetlands, rivers, canals, lagoons, and lowland rainforest during your bird and wildlife-watching expedition.
Poas Rentacar can take you to the five best birdwatching destinations in Costa Rica! Choose from its fleet of modern vehicles and take to the open roads exploring this beautiful country that the birds have chosen to visit yearly!